Announcements: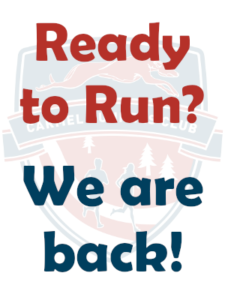 Per current recommendations, we are ready to resume our group runs!
Our next run will take place on Wed Jun 3rd at Bier Brewery North.  Check out the newsletter and the Run Calendar for more details!
If you are concerned with being in groups, at high risk, or experiencing any COVID symptoms such as a fever, please stay at home. Please continue to follow best practices to avoid the spread of COVID.  You are encouraged, but not required, to wear a mask while participating in CRC activities. 
---
The Carmel Runners Club (CRC) is a volunteer-operated, 501(c)(3) non-profit organization promoting healthy lifestyles through running, walking, and social opportunities in Carmel, Indiana and the surrounding communities.
CRC promotes running and walking opportunities year-round by hosting multiple group runs and walks each week. These outings are for everyone regardless of pace, age or ability. The club also provides training programs for runners and walkers targeting longer distance races in the spring and fall. These include recommended distances and routes.
Social interaction is also a vital component in the club's impact on its membership. Pre and post-race socials are enjoyed by members. We also schedule non-race related socials on a regular basis and encourage family participation to be able to include non-runners/walkers as well.
All runners, walkers, and interested individuals are welcome!
CRC runs each Sat at 8:00am (7:30am during the summer months), typically from SoHo Cafe. Wednesday night runs are at 6:00pm and typically begin just outside of Union Brewery. These locations do change from time to time, so please be sure to check the Run Calendar prior to the run.

This slideshow requires JavaScript.