Carmel Runners Club Scholarship
The

Rob Parsons, The Craig Thompson, and The Dr. Michael Helms Scholarships.
Since 2014, Carmel Runners Club has provided scholarships to local college-bound students. These students either reside in Hamilton County or have been nominated by a CRC member. Since 2014, we have awarded $16,000 in scholarships.  The scholarships are named after members and friends of Carmel Runners Club who exemplify strength, courage and endurance through running.  
Applications
Applicants are required to submit an application and an essay explaining how running and/or walking has had a positive impact on their life. This is open to all students and is not limited to track or cross country athletes.
Contributions
You can help! – Contribute to the CRC scholarship fund using Amazon Smile.

On your Computer or iPhone:
Go to smile.amazon.com
Set your "Supporting" charity to Carmel Runners Club Inc.  
Make future purchases on Amazon using smile.amazon.com and contribute automatically (purchases via www.amazon.com or iPhone app will not generate contributions).
All contributions from smile.amazon.com will go to funding the CRC scholarship fund!
On your Android Phone:
 If you have the latest version of the Amazon Shopping App, open the App on your Android device.
Click the three bar menu (top left of app) to view Settings and select AmazonSmile.
Follow the in-App instructions to complete the process.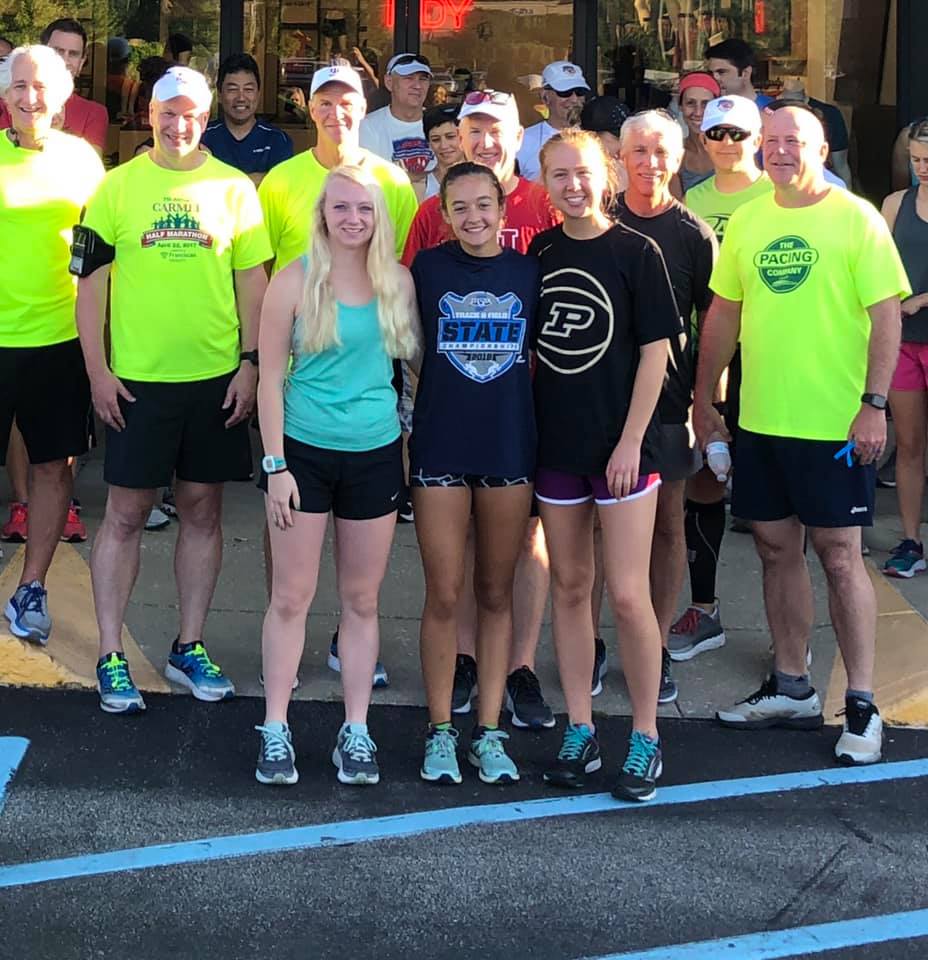 This slideshow requires JavaScript.
Scholarship Honorees
The Rob Parsons Scholarship
The club's board recognizes Rob Parsons as a club member who truly exemplifies the spirit and beliefs of the club by always having an amazingly positive attitude and a welcoming presence for anyone regardless of their ability. He always greets new runners, which includes running with them to make them feel welcome along with encouraging other runners. He has helped numerous runners from the club get through injuries and rehabilitations. Rob shows up at many races where he isn't even running, but he wants to encourage and help the runners who are from the club.
The Dr. Michael Helms Scholarship
The club's board wants to recognize Dr. Michael Helms from Indy Podiatry for his incredible support for the club and the club's scholarship program over many years. Dr. Helms has helped so many runners in the club with their injuries, foot issues, and other needs. As a runner himself, Dr. Helms has an understanding of the issues and injuries that runners must deal with daily. The club is very proud to have him and Indy Podiatry as a sponsor.
The Craig Thompson Scholarship
From the beginning of the club, Craig Thompson has been a very active member and strong supporter of the club's mission as a welcoming group for runners and walkers in Carmel and the surrounding areas. Craig is always at the front to try to make new or prospective members feel welcome. This might even include buying them a beer! Over the years, Craig has also been a exemplary sponsor of the club's scholarship program to help students pursue their educational goals.
Todd Oliver
The scholarship program would not be possible without Todd Oliver. When he founded the club, Todd had the foresight to realize that a scholarship program would be an excellent way for the club to help the community. Todd is still a very strong supporter of the club and the scholarship program. We are thankful for all of his contributions to Carmel Runners Club!